"As far as the program itself, it's the only one that works…"
A.M.A., Florida (See his results about half way down the page)
Health articles and weight loss tips by Tim Ritter, aka "FacelessFatloss."  Use this site to learn:
-How extreme illness taught me how to have non-stop abs since late 2005, continuing through today, May of 2013
-How the western diet, still being taught by the mainstream, is not only unhealthy, but virtually guaranteed to make us fat
-Why the science is proving that the exercise tactics on the infomercials and TV shows are the least effective for long-term results
-Why there is no "one size fits all" fat loss program, but there ARE just a few tactics that will work for virtually everyone (I live them, and teach them)

-How not understanding how foods impact you can lead to a permanent inability to lose fat
November 2008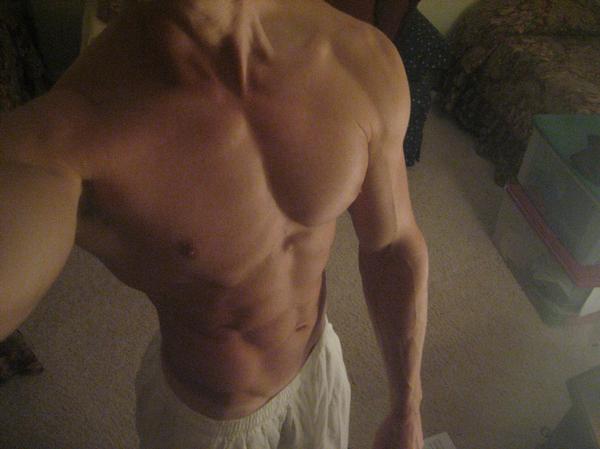 April 2010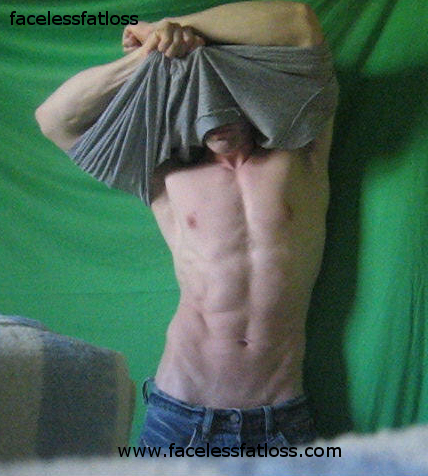 March 2011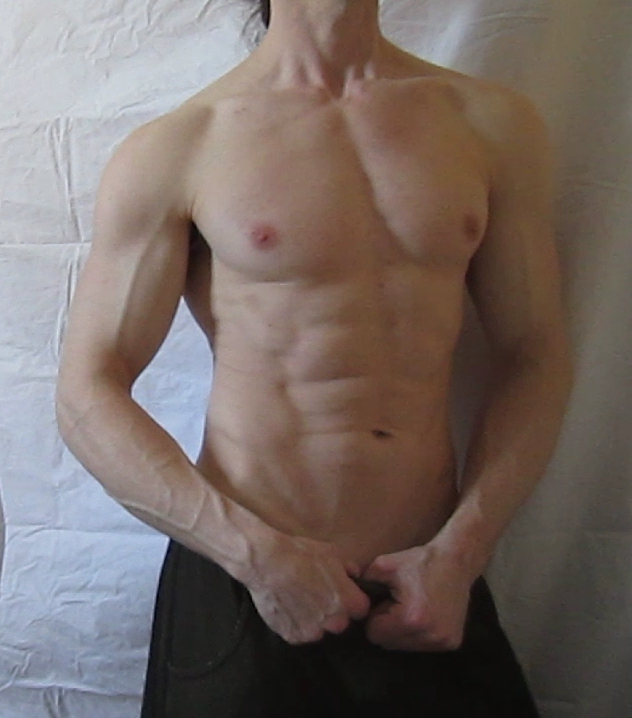 January 2012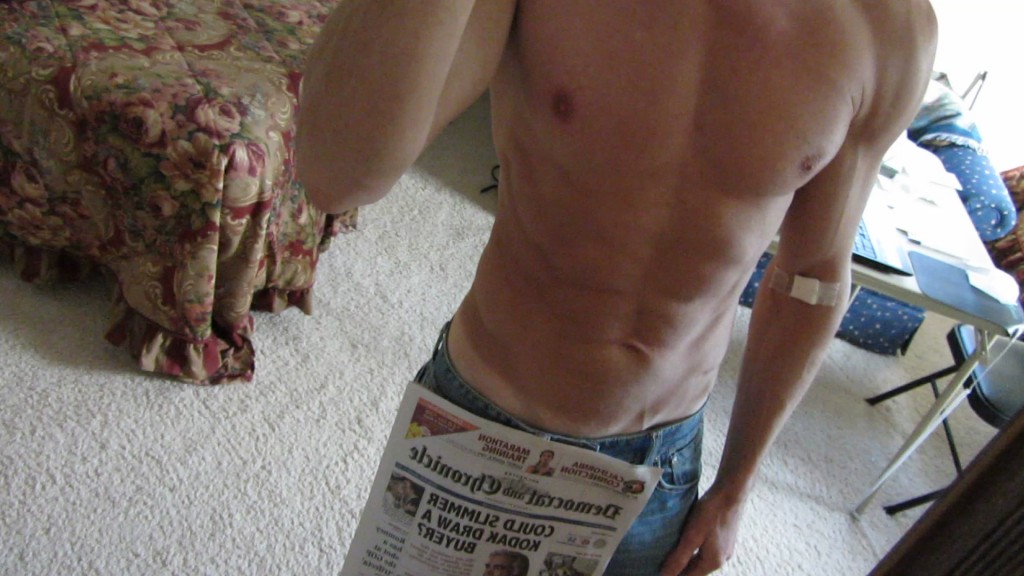 February 3, 2013 Super Bowl Sunday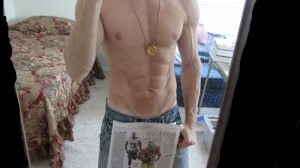 Just some "picture progress reports" above, there are more frequent videos/pics taken on my public video channels.  Many people offering programs out there do not show their own results on an on-going basis.  I feel it's important to be able to show my results regularly so that you can see that what I'm doing is maintain-able on a long-term basis.
Articles:
I am NOT a Fruitarian, 80/10/10, Raw Food, Vegetarian, Vegan…BUT:
It Goes Beyond Wheat and Gluten Issues.
The "Pee-90-X" is QUITE Insane Indeed.
Ab Machines, Ab Gizmos, Ab Infomercials…"Yes" and "No," and Why.
Do Fat Burners Really Work?  You BET they Do!
"I've been implementing your style of training…and I've never had something work like this before…I've watched the fat go away and my definition go up with so little work. I'm getting really lean but keeping alot of the muscle I put on which I've never been able to do before." -Arun Abraham, Gainesville, FL



"Tim has amassed a great deal of knowledge…Try Tim's plan, the results speak for themselves…I am happy to be associated with a person so dedicated to natural health and wellness."

Dr. Jeremy Webster, www.completehealthdallas.com

____________________________________

(I use Dr. Webster's Raw Whey Protein Powder and his new Organic Green Powder, because they are the best out there!  Visit his site and use my name…facelessfatloss…in his coupon code to obtain a discount on these wonderful products just for visiting this site!)
++++++++++++++++++++++++++++++++++++++++++++++++++++++++++++++++++++++++++++++++++
A letter from Ricardo:

"Hey Tim. well first let me tell you that the program have work [sic] wonders for me, since I really started to implement it into my life, I have lost about 20 pounds… and on top of that I feel great, I have energy to spare now and that's affecting my life in the most positive way possible, I am a student, and I can now sit through a whole class and actually pay attention without wanting to fall asleep or getting out of the classroom every 20 minutes and for that I thank you so much…"
Ricardo Sanchez, Venezuela
(Ricardo Update, mid-July 2010):
"First of let me tell you that I am most grateful about finding out about this program, I have already lost 48 pounds in just over three months I am amazed by the results. It was a challenge just the first three or two weeks but after that it went on auto-pilot. I am in a "maintenance phase" right now but I intend to go full throttle again in a couple of weeks just to tone down the little bit of extra fat I have left."
Ricardo Sánchez
Caracas, Venezuela
Ricardo Before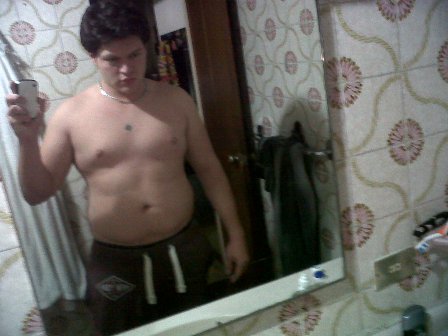 Ricardo After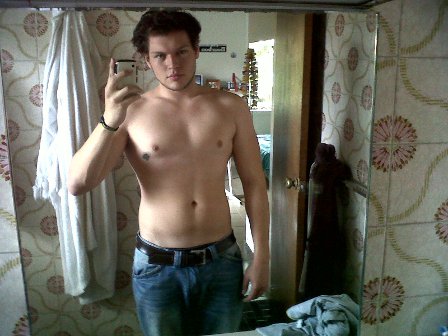 (YouTube viewer-appointed "Best Tight Abs Teacher on YouTube!")
You may have never heard of me before; I don't have hundreds of thousands of dollars to spend on infomercials like the Jillian Michaels and Tony Hortons out there.
And YES, I have a strange/silly branding… ("face-less"…focus on my low-fat body, where the results are)
But I've been online quietly since early 2008, as a life-long research hound.  Reporting on the latest in health and fat loss/fitness is my LIFE (if I told you how long I've been single you wouldn't believe me)
This site is for YOU.  Your one-stop info-portal to superior health, and of course…a rockin', SUPER-HOT bod.  The no-BS lifestyle that anyone can manage, and that creates and maintains a life-long result.




"As far as the program itself, its the only one that works, and I've been everywhere form (site listed) to the depths of (other fat loss sites listed). Nothing uses synergistic logic from old world health and new world science together in a better way. (My program's training method) is far greater than (another training method) and that's perhaps the most important thing your program taught me. This accompanied with the vast amount of hints such as (lists several components to my program), need for magnesium and other vital nutrients really transformed my physique."              A.M.A. Florida
++++++++++++++++++++++++++++++++++++++++++++
More Articles:
Food Labels are STILL Largely Misunderstood (VIDEO)
BEEN there, DONE that…Alcoholism, Depression, the fat that WILL NOT come off
We now KNOW what CAUSES, and What To DO ABOUT…AB FAT SPECIFICALLY
Activating AMPK: Fat Loss at the Cellular Level
OVER 40 YET?  If so, you need to click HERE.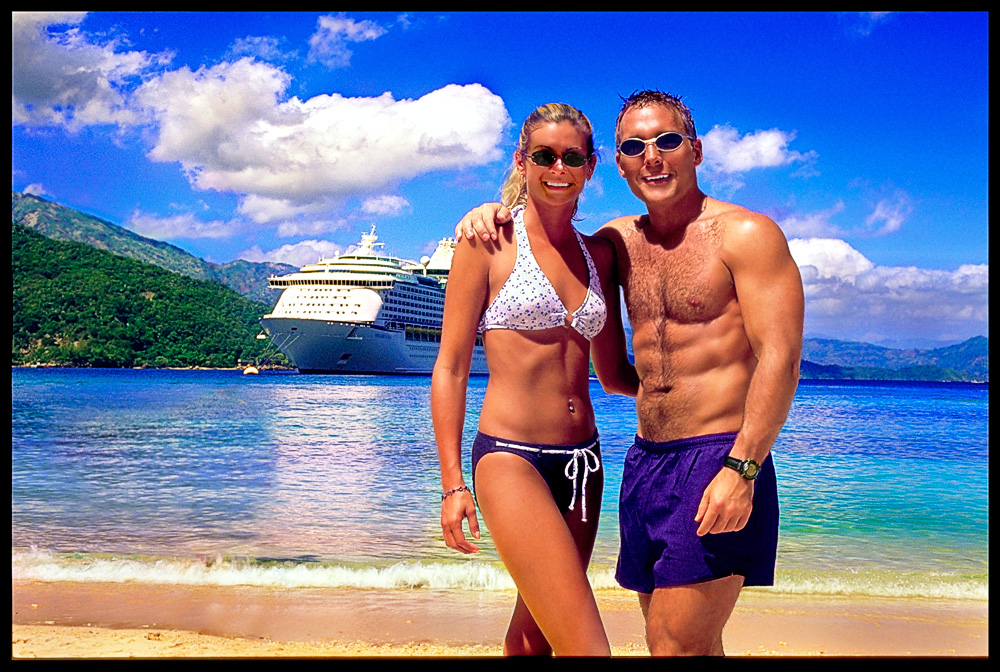 Jeremy has been a member of the Faceless Fat Loss (FLFL) community for quite a while now (that's him on the right).  He's 41 years young!
More Articles:
PLANKS: The Rage for Years Now, but Benefits are way beyond Abs.  Proper execution is essential!
The Never-Ending Raw Food/Vegan/Durian/Vegetarian Hate Wars
The Fitness Magazine Cover Ladies; The Science of Fat Loss Applied
The Pro Bikini Competitions offering the New, Obtainable, Female Ideal
(Two new articles pending, May, 2013)
And more articles coming, and everyone in the FLFL community will be notified! 

THANK YOU SO MUCH FOR VISITING. I HAVE GONE THROUGH A LOT TO GET TO WHERE I AM, AND CONSIDER MY INFORMATION SPECIAL AND UNIQUE. I AM HONORED THAT YOU HAVE FOUND VALUE IN MY APPROACH.
AS ALWAYS: LOVE, HAPPINESS, HEALTH AND PEACE.
Tim

(All testimonials are real people, not paid, and can be verified upon the request of any authorized agency)
I am required to state that I am not a doctor, and a doctor's advice should be sought before engaging in any weight loss or fat loss program. Results may not be typical, and depend largely on the amount of effort put forth into the program. Nothing included in the FacelessFatloss program is intended to diagnose, prevent, treat or cure any disease. The program contains only the opinions and experiences of Tim Ritter, the steps he has taken to achieve the results seen on various internet outlets, and the purchaser agrees to take sole responsibility for their own choices and actions. The answers provided to those participating in the extended program are answers covering how Tim Ritter personally would handle the same questions, and are not intended to be medical advice or recommendations, only personal opinions based on anecdotal experience.  In visiting and using this site, you hereby agree to the Terms and Conditions found at the link at the bottom of this page.

A PORTION OF FUNDS AND/OR CREDITS RECEIVED FOR THE FACELESSFATLOSS PROGRAM GO DIRECTLY TO INDIVIDUAL CHARITY, HELPING THOSE IN NEED AND/OR DEALING WITH CHRONIC PAIN ILLNESSES.
****PLEASE NOTE: THERE ARE VIDEO AND OTHER PROMOTIONS OF THIS PROGRAM BEING SHOWN ON VARIOUS VIDEO OUTLETS FEATURING CONTENT THAT IS NOT REPRESENTATIVE OF THE FACELESSFATLOSS (FLFL) PROGRAM.  THESE PROMOTIONS OFTEN FEATURE COPYRIGHTED MATERIAL THAT THE ADVERTISER HAS NOT OBTAINED PERMISSION TO USE.  ALTHOUGH WE APPRECIATE THE POSITIVE PROMOTIONS, THIS WEBSITE AND THE VIDEO AND OTHER OUTLETS WITH THE FACELESSFATLOSS NAME (such as youtube.com/facelessfatloss and only those banner ads we have approved of) ARE THE ONLY LEGITIMATE PROMOTIONS OF THE FLFL SYSTEM.  ANY OTHERS, SUCH AS YOUTUBE VIDEOS OUTSIDE OF THE FACELESSFATLOSS CHANNEL, MAY FEATURE MISLEADING IMAGES, VIDEO OR TEXT THAT ARE NOT INCLUDED IN THIS PROGRAM.  THOSE DOING SO ARE NOT EARNING COMMISSIONS FROM PROMOTION OF OUR SYSTEM NOR ARE WE ASSOCIATED WITH THEM IN ANY WAY****

SPECIAL "THANK YOU" to Art Butcher for building this site.  Please contact him at: clientfocusedwebsites.com